70. Heavenly Creatures, 1994
Dir: Peter Jackson
Cast: Kate Winslet, Melanie Lynskey
This is a very disturbing, yet brilliant film by Peter Jackson. Personally, my favorite Peter Jackson film and one of my favorite performances by Kate Winslet. This is definitely a movie that stays with you long after the movie is over. Powerful stuff.
69. Before Sunrise, 1995
Dir: Richard Linklater
Cast: Ethan Hawke, Julie Delpy
Beautifully made movie by Richard Linklater who is one of the more interesting directors still working today. His first three movies are most interesting to me as they all are a day in the life of either bunch of college-aged students, high school kids, or in this case two tourists in Vienna. This movie kind of reminds me of "Lost in Translation" in that these are two people who are from very different places and backgrounds but manage to find a deep connection in a place that's foreign to them. They spend a wonderful time together just getting to know each other and sharing interests, but they know that ultimately they will have to part and perhaps never see each other again. This movie doesn't present it in a sad way, it's just part of life. This movie shows that no matter how these moments end, they're still worth the experience.
68. Boys Don't Cry, 1999
Dir: Kimberly Peirce
Cast: Hilary Swank, Chloe Sevigny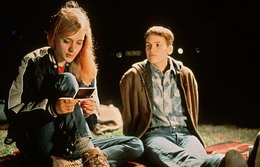 This powerful, devastating drama which is really a love tragedy between two characters who share a mutual attraction between each other in a place where it's socially unacceptable. Hilary Swank gives a masterful performance in this movie and so does Peter Sarsgaard who is so good, it's kinda scary.
67. Homicide, 1991
Dir: David Mamet
Cast: Joe Mantegna, William H. Macy
With David Mamet, you always know you're going to get a movie that's smart and has characters that always have interesting dilemmas and things to say.
Homicide
is not very different. It features great performances from Mantegna and Macy and, as mentioned, a smart script. This is one of Mamet's best movies.
66. Jacob's Ladder, 1990
Dir: Adrian Lyne
Cast: Tim Robbins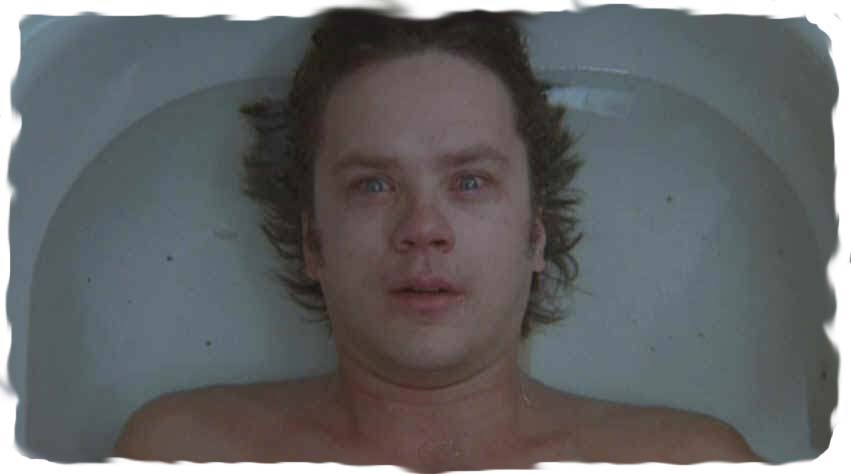 This is one disturbing, terrifying, psychological thriller and Tim Robbins gives an amazing performance as a Vietnam war veteran who often gets confused between fantasy and reality. This is a tough film to watch throughout, but at the end, you feel rewarded with such a fine piece of cinema.
65. The Lion King, 1994
Dir: Roger Allers, Rob Minkoff
The first animated movie on this list and one of Disney's finest efforts on 2-D. In fact, this movie is so good that, at the time, it seemed like the only way to go from here was the route of the 3-D animated Pixar films. There is a wide array of memorable characters in this movie and it has the perfect amount of happy and sad elements to leave you completely engrossed in this picture.
64. Fear and Loathing in Las Vegas, 1998
Dir: Terry Gilliam
Cast: Johnny Depp, Benicio Del Toro
A great movie that was highly misunderstood at the time of its release, like all of Gilliam's films,
Fear and Loathing in Las Vegas
is a chaotic, visceral movie with the typical Gilliam-esque fantasy elements although in a much darker tone. You can't expect to watch this movie once and understand it completely, but this movie can be understood. Upon repeated viewings, you find that this movie is really a commentary about living in America during the Nixon era, albeit a distorted one. Watching this movie again after the first time prepares you to sit back and just go along for the wild ride. Once you're done with ride, you want to go right back on again.
63. Bullets Over Broadway, 1994
Dir: Woody Allen
Cast: John Cusack, Dianne Wiest
This is Woody Allen's finest film of the '90s and it's a nice change of pace from his usual relationship-focused comedy/dramas. What's also striking about this film is how great it looks visually and how authentic it looks for its time. For a guy who basically makes a movie every year and never looks back, it surely seems like he took the time to get all the little details right with this film. I also think this is a great film for a non-Woody Allen fan to watch. While it contains some of his trademark elements and it has that Woody Allen stamp on it, it's very different and it's intelligent. It showcases the fact that Woody Allen is one of America's greatest treasures in the movie business.
62. The Fugitive, 1993
Dir: Andrew Davis
Cast: Harrison Ford, Tommy Lee Jones
Probably one of the few remakes of a television show that actually totally works on its own,
The Fugitive
features two great performances from Tommy Lee Jones and Harrison Ford and is just a very fun, very well-directed action flick. I think you would call it an action flick...
61. Reservoir Dogs, 1992
Dir: Quentin Tarantino
Cast: Harvey Keitel, Michael Madsen
The first Quentin Tarantino film on this list also happens to be the first movie he ever made (or completed, however you want to say it). That, of course, indicates that this isn't the last Tarantino film on this list and that would be indelibly true. I love this film, but since its scope is small, I feel that it is appropriate to leave this in the bottom half on the list (while remaining very close to the top 50). It's funny how people criticize Tarantino for stealing from other films, but no matter how many film references he makes in his movies, they are
always
very much Quentin Tarantino movies. I love everything about him and his movies. I love how sure of himself he is, I love how he writes his characters, and I love the way he constructs scenes in his movies. This is one of the most impressive film debuts by a director in the '90s and QT has been talked about ever since.